VENICE IN THE 18th CENTURY
VENICE IN THE 18th CENTURY
A COSMOPOLITAN CITY AND ITS LEGEND
Curated by
Laura Facchin
Massimiliano Ferrario
Luca Mana
April 20 – September 3, 2023
In 1922, Italy's first exhibit dedicated to paintings from the seventeenth and eighteenth centuries was inaugurated at Palazzo Pitti; already on that occasion, Venice was the star. A few years later, in 1929, the exhibit curated by Nino Barbantini about 18th-century Italian artwork made Venetian paintings and, more in general, every type of artistic product from Venice the true fulcrum of the 18th century, in Italy and Europe.
Almost one hundred years later, the Accorsi-Ometto Decorative Arts Museum dedicates an exhibit to Venice, the cosmopolitan city par excellence, and to its legend. After all, over the centuries, and above all during the 1700s, Venice consolidated its legend as a must-see destination for grand tourists, collectors, and artists, as well as princes on the run for political reasons – from Casimire of Poland, the widow of John III Sobieski, to Francesco III d'Este, the duke of Modena and Reggio – and ambassadors, diplomats, and an incredible number of prominent people from all over Europe who uninterruptedly converged on the banks of the Venetian Lagoon. Many traces still remain, in literature, in diaries, in newspapers of the time, and, above all, in works of art, from landscapes by the illustrious Canaletto – to mention the best-known name – to the applied arts, such as porcelain and precious silver objects.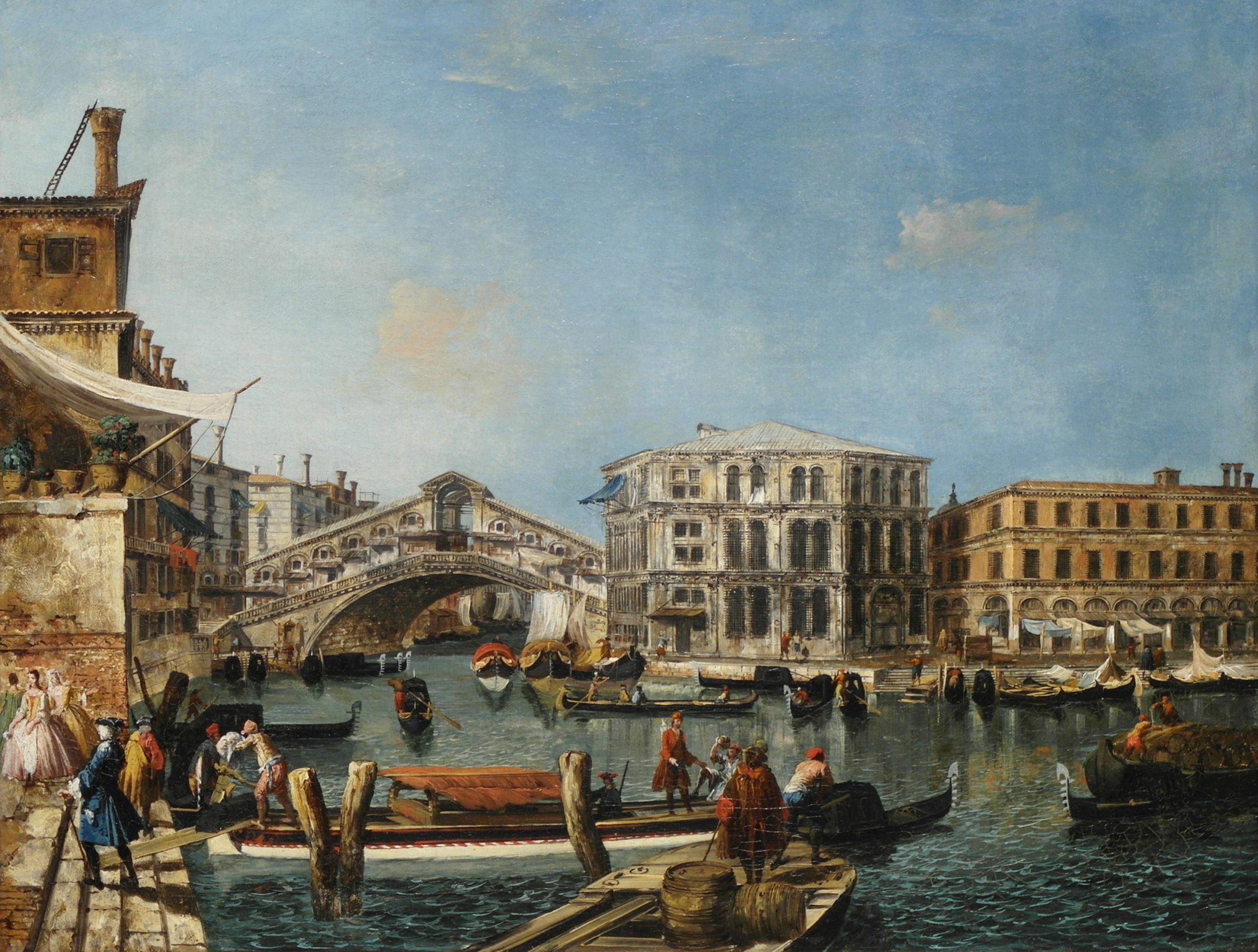 Michele Marieschi, Veduta del Ponte di Rialto con il Palazzo dei Camerlenghi, 1738-1740.
Milano, FAI – Fondo per l'Ambiente Italiano, Villa Necchi Campiglio, inv. C 472 DM05
The exhibit's itinerary leads visitors through the temporary exhibit areas and continues in the rooms housing the Museum's permanent collection. It is a comparison between Venetian artists and the artists – primarily from Piedmont and France – whose works embellish the Museum's rooms. A competition that mirrors the one that existed during the 1700s among artists from various provenances, in Venice and throughout Europe, where artists from The Serenissima Republic of Venice were particularly coveted and sought-after. Thus, the dialogue between the works in the permanent collection and the works in the exhibit are meant to stimulate these comparisons and competitions, all the while respecting the customary setup that reflects the "Accorsi taste" of the rooms.