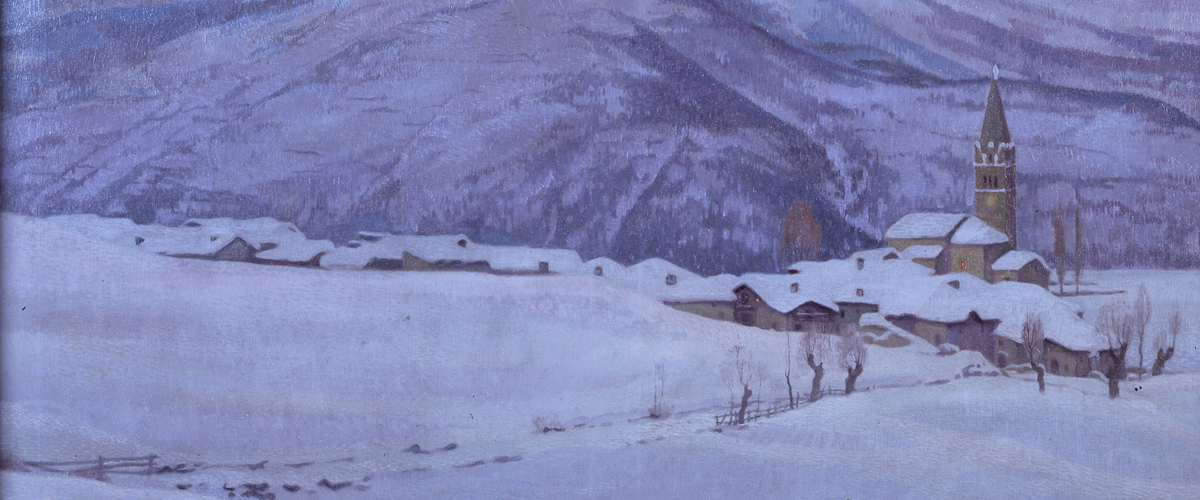 GIULIO'S CHOICE
Giulio Boetto: the journey of a landscape painter in the century that destroyed the landscape
July 4 – September 15, 2019
The Accorsi-Ometto Museum hosts a multimedia exhibition dedicated to Giulio Boetto (Turin 1894-1967), a painter from Turin who chose the landscape as subject of his paintings and living space. In fact the landscape is the main theme of the exhibition and is summarized in three emblematic pictures of the author: La casa del prete (The house of the priest, 1918), Luci del mattino a Sauze d'Oulx (Morning lights in Sauze d'Oulx, 1923) and Fine del mercato a Saluzzo (Market closure in Saluzzo, 1947).
The paintings are accompanied by three video installations created by Giosuè Boetto Cohen, the painter's nephew, journalist and director. Through films and historical documents, reproductions of paintings and unpublished photographs, the historical and artistic vicissitudes of the twentieth century revolve around the three paintings.
The original music is by Marco Robino, founder of the Architorti.
 ———————————————————————————————-
Giulio Boetto was born in Turin in 1894. At the age of thirty he moved to the feet of Monviso mountain, leaving behind the whirling debate on the Avant-gardes that was substantially alien to him and the fame that Turin had recognized for him – the newspapers published his caricatures; the exhibitions rewarded his paintings which were also bought by the King of Italy; he was in great demand in the intellectual salons of the time and as a cinematographic set designer. Between the end of the Great War and the 1950s, he was one of the most fruitful interpreters of Piedmontese life and landscape. Strong of an extraordinary technique, besides being a talented portraitist, he painted with remarkable ability mountains, pastures, markets, towns and squares.